On Tuesday afternoon President Obama laid out an ambitious and wide-ranging climate agenda in a speech at Georgetown University, calling for reductions in greenhouse gasses, caps on emissions from existing coal plants, a large-scale transition away from coal to natural gas and eventually renewables and better standards for vehicle emissions. Check out the President's full plan, and then take a look at the story around it with us. We've got the story behind the ideas he laid out and, via our partners at Face The Facts USA, the facts behind the president's words.
Jump To: Climate & Weather: It's Getting Intense | Coal: Clean It Or Lose It | Natural Gas: Transitional Fuel? | Keystone XL: Controversy Not Over | Our Progress: Some Success But More To Do
Climate & Weather: It's Getting Intense
President Obama pointed to rising temperatures and increased, costly disasters as key indicators of the trouble we're facing from climate change. He also stressed the need to adapt - and our ability to do so.
A nation slowly losing its cool
Globally, temperatures have risen over the past century, with July 2012 taking the spot as the hottest month on record in the U.S.
Billion-dollar natural disasters now a frequent occurrence
Billion-dollar weather disasters in the U.S. have tripled since the 1980s. 2011 broke records, with 14 separate events.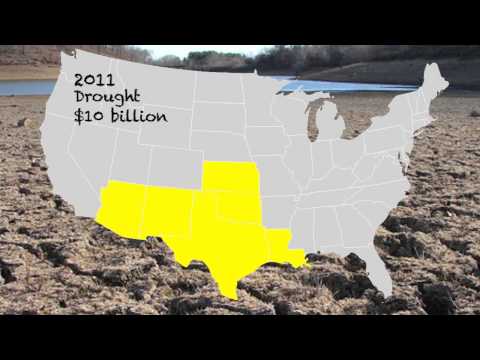 When disaster strikes, people look for explanations, and climate is a big one. Take a look at what we learned from Hurricane Sandy.
28 straight years of warmer average temperatures
Global temperatures have not dipped below long-term averages since 1985. The U.S. broke several temperature records in 2012.
Peter Linquiti - Sound Coastal Policy
Peter Linquiti answers the question "How can we develop effective policy to counter rising sea levels?"
Coal: Clean It or Lose It
The big culprit, according to the President's speech, is coal. In the future, the standards for coal emissions will be higher, bringing clean coal technology into the spotlight.
We take a look at a technology that can cut toxic mercury and sulfur emissions from coal, and could even be burned as a carbon neutral alternative to fossil fuels. -
Scientists Urge Carbon Capture and Storage for Coal Power Plants
The same materials we use in shampoo and conditioner could help us capture carbon from coal.
Making coal fired generators more efficient and less polluting with hydrogen
Adding hydrogen to the current coal mixture could help out with pollutants, and save on the amount of coal necessary to produce the power we need.
Coal: We're mining it more, burning it less
Domestic consumption of coal is way down, but production has never been higher. We're selling more abroad.
Natural Gas: Transitional Fuel?
As President Obama's plans transition us away from coal, natural gas takes the spotlight as the transitional fuel.
Frack to the Future: Natural Gas as a Gateway to Renewables
Is natural gas a transitional fuel? We look at the viability and environmental impact of this fuel.
U.S. Sees Record Natural Gas Production
The U.S. produced a record amount of natural gas in 2011. Hydraulic fracking, horizontal drilling, helped get it done.
Cheap gas arrives, but to power coffee makers, not most cars
Natural gas rivals coal in the race to generate more American electricity. And it's poised to take the lead.
Keystone XL: Controversy Not Over
President Obama also mentioned the Keystone XL - he's not committing either way, but he did underscore that it has to be judged as a project that directly benefits the American people. We've got the reactions to the pipeline on the ground.
GW's Dave Karpf explores the Sierra Club's recent acts of civil disobedience in protest of the Keystone XL pipeline.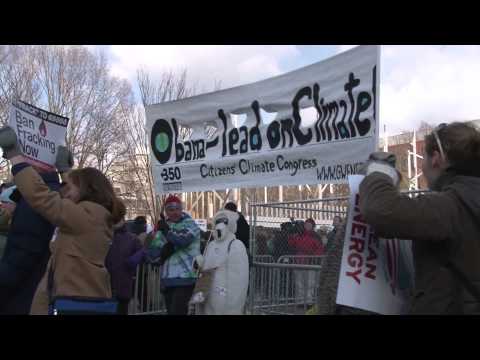 Voices from the Forward on Climate Rally
On February 17th, roughly 35,000 Americans rallied on the National Mall to urge President Obama to reject the Keystone XL oil pipeline proposal.
Pipelines: Moving energy and chemicals, but how safely?
2.5 million miles of pipeline transport hazardous liquid and natural gas products across the United States.
Our Progress: Some Success But More To Do
Ultimately, the President pointed to successes on clean air and opportunities for new, green jobs, but made it clear that there's still a long way to go.
Green energy not yet a big job generator
Renewable energy is a fast growing sector of the American power economy. But it creates few jobs compared to the fossil fuel industry.
Breathing easier: Clean Air Act gets results
The federal government credits the Clean Air Act with significant decreases in air pollutants – and measurable health benefits for Americans.